What To Look For When Buying A Car
Car purchases are some of the biggest investments that we make, and usually a lot of thought has to go into the decision. 
You'll need to consider what type of car best suits you, your budget, whether you'd like to go new or used and where you want to buy from.
One of the biggest considerations you'll make is in evaluating the safety of the vehicle you're looking to buy. 
We often regularly use our cars with the people closest to us, so we all want peace of mind in knowing that what we're driving is safe for ourselves and other road users.
Most of us however have busy schedules and not a lot of knowledge on the inner-workings of automobiles. 
We could attempt to do the job ourselves of inspecting the vehicle, but it's more likely than not that we'll miss important details or simply won't find the time to do the work involved.
So, we've created an amazing guide for you to know exactly what to look for when buying a new car. 
Remember, you're going to need a mobile roadworthy so don't hesitate to book one in with us here.
Anyway, here's what to look for when buying a car. 
What Should I Do Before Buying A Car?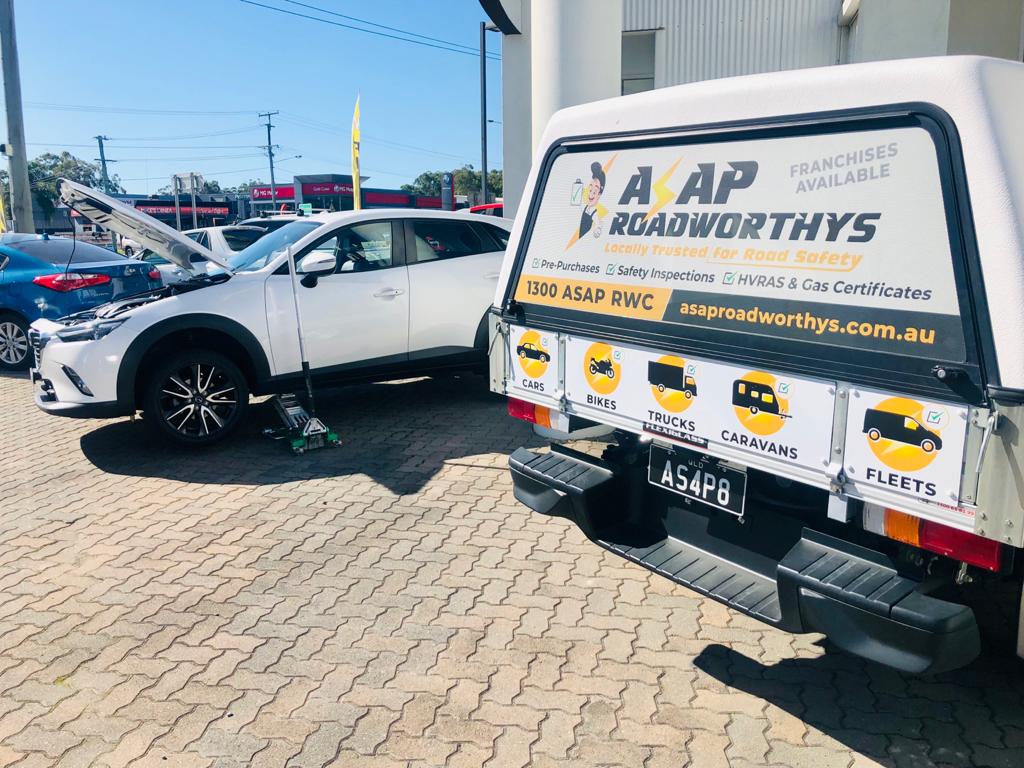 So, you're in the market for buying a new car but you don't really know where to start. The first thing that we advise you to do before buying a car is begin your research.
Yes, we know this sounds simple, and broad. However, you'll need to start to research exactly what car you are looking for. A great exercise is to start by writing down a list of essentials you require from your new car. 
For example, you might need 4 doors and lots of space. You might consider getting a child safe car or if you're treating yourself, a fast and good looking car. 
Now, if you're at the stage where you've researched and understood what type of car you're looking for. You can begin your search for the dream car… It's out there somewhere 😆.
Here's how to fasttrack what to look for in your potentially new car
Luckily for buyers, pre-purchase inspections are one of the simplest and most accessible ways to evaluate the safety of a car. Simply put, a pre-purchase inspection involves a qualified expert taking a deep look into the mechanics of a car. 
They will ensure that all the important components in the vehicle are in safe and drivable condition. A report is then provided to the potential buyer detailing the condition of the car, and whether or not it has been deemed safe to drive. This allows buyers to sit back, save time and have peace of mind knowing that nothing is being missed.
Trust me, if you're limited on time then a pre purchase inspection is your best friend. However, we appreciate you're probably going to want to do this all by yourself, so let's get into more details so you know what to look for when buying a car. 
For those earlier in the buying process, this guide will serve to help you understand what you're looking for in a car, and once you've found a vehicle, how to go about ensuring that it is suitable for you.
Understanding Which Car Is Going To Be Best For You
Right, let's get down to basics then. You need to understand which car is going to work for your situation. 
Everyone is different right, so you need to look out for areas of a car that suits you the most. That might be that it's safe, that it's fast, or that it's able to go off-road. There are so many different factors to consider… 
Let's take a deeper dive into these below:
One of the first steps in understanding which car to get is setting yourself a budget. It's easy to think of budget as simply the amount you're willing to buy a car for, but there are many other considerations to keep in mind. 
The initial purchase price is just the start – you'll need to consider ongoing costs such as fuel, insurance and anything you may need to spend on maintenance or repairs.
Really, the question is how much are you willing to spend on this new car? Do you want it for life, or are you just looking for a short term A to B solution.
Identifying the type of car you need
Once you have an idea of your budget, you can start thinking about exactly what it is that you want from your car. Are you looking for a larger family car that is perfect for the school run?
Maybe you're adventurous and want a car with off-road capabilities. Or perhaps you want something a lot smaller, just to get you around or commute to work.
Like we mentioned above, there are many reasons. Are you looking for a car that is economical and saves fuel because you commute to work? Or are you looking for a little run around first car for your kid? 
Do you want something shiny and new? Or would a used car be just fine for you? Identifying the use case for your next car purchase is a crucial step of knowing what to look for when you are ready to buy.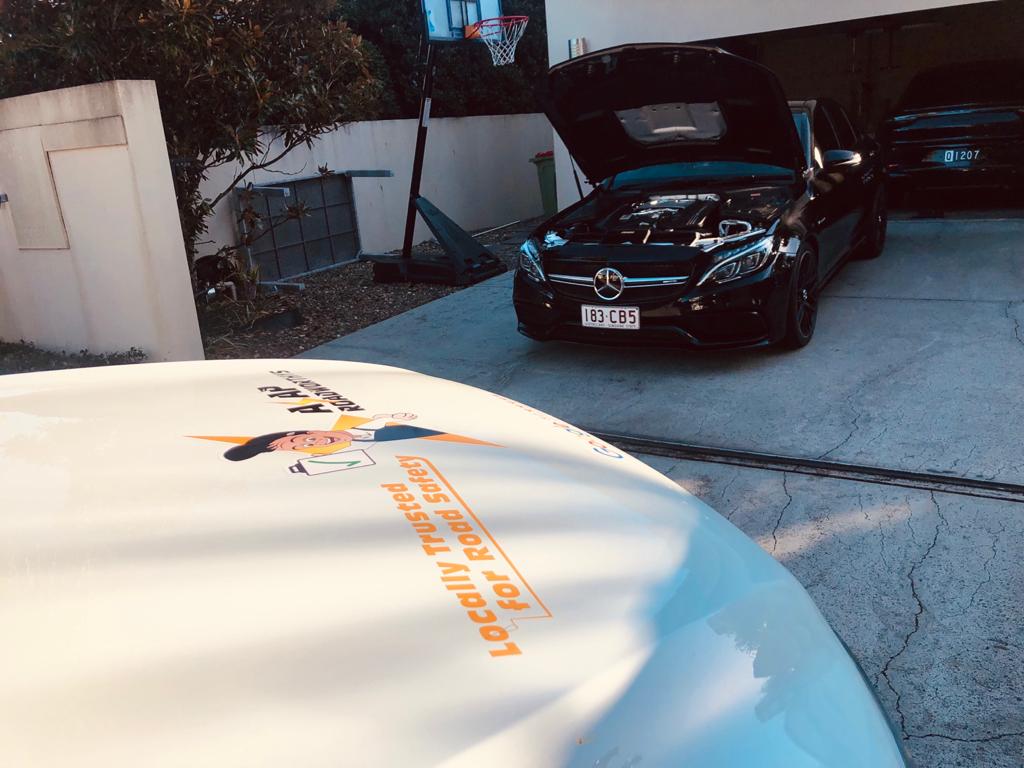 Full Car Buying Checklist
Ok, so we've created you an awesome easy to follow car buying checklist. This goes through all the step by step areas you need to go through when looking at buying a new car.
Once you have an idea of your budget, and the type of car you need, you can start looking at the marketplace for vehicles. This will give you an idea of what you can get for your money.
Exploring Car Dealerships
Exploring your local car dealerships is an enjoyable way to discover potential buys. You'll usually be saving time, as well as paperwork, but you'll pay a premium for the additional service.
One benefit of going to a dealer for your next purchase is that you'll likely be protected in the event that something goes wrong with your vehicle – when you choose to buy private/direct-from-seller, there are usually little-to-no guarantees.
When going to a car dealership, make sure you are looking over the car you want to buy for any dents, scratches and asking lots of questions regarding the history and previous owners.
Exploring Online Marketplaces
Online car marketplaces are growing in popularity. From the comfort of your own home you can now enter in exactly what you're looking for in your next vehicle, including your budget, and have hundreds of suggestions provided to you in a snap. 
The vehicles posted here can be both from dealers and private sellers, so it's worth taking a close look at listings. Sellers of course will be pricing their vehicles competitively amongst the competition, so you can quickly get an idea of how much a vehicle is actually worth, and what you can get for your money.
When looking to buy a vehicle online, you need to make sure you're looking for the best price but also an honest seller. Those who are open about any issues the car might have will be more trustworthy than others. We'd advise looking to buy a car from these sellers over others.
Great! You've found a vehicle that you could potentially see yourself buying, now it's time to contact the seller or dealer and ask the important questions.
You should gather the following information:
How long has the seller owned the car for?

How many previous owners has the car had?




What is the mileage of the vehicle?

How old is the vehicle?

Has the vehicle been damaged before?

What is the condition of the car?

Is there a service history with the car?


Once you've got this information and you are happy with the description of the car, you can start thinking about the buying process. This begins with inspecting the vehicle.
These are some fantastic areas you are going to NEED to look for when buying the car. History, paperwork and questions to find out more about your dream vehicle.
Inspecting the car you're looking to buy is key in ensuring it is safe to drive and is as described.
While you can ask the seller about the condition of the car, the truth is most people who sell their cars simply don't know enough about vehicles to give you an informed answer.
Unless you're someone who works with cars regularly, it's likely that you too wouldn't be able to verify the integrity of the car you're looking at.
So, we've put together some areas that we think are most common that people miss or have regular failures. When you are buying a car, make sure you check these areas. 
If you want to inspect the car yourself, here are some pointers:
Arrange with the seller of the vehicle to inspect the car during the daytime, in clear, well-lit conditions. This sounds like a simple tip but you'd be surprised how the environment can hide dents, scratches, rust and other cosmetic defects.

Look for any discrepancies in the size of the gaps between the panels on the vehicle. If there are different sized gaps, it could indicate a poor repair job

Check under the bonnet and body for any rust or signs of repair, such as paint overspray or evidence of welding

Check the level of oil in the vehicle using a dipstick. If the level is too low it could be a sign that the owner of the car has not been taking proper care of it

Check the tread on the tyres – to ensure there is plenty, and also to check if the tyres are wearing evenly

Ask if you can start the engine cold, if the seller has warmed up the engine prior to your arrival it could be a sign they are trying to hide something


However, we must admit, without the correct tools and knowledge you may be missing out on areas that aren't visible to the naked eye. 
With a trained eye onboard, you might get much value from your visit. Pre-purchase car inspectors can give you a comprehensive report from the engine, oil leaks, exhausts, undercarriage and even the computer systems inside.
Checking the vehicle's history
Before you purchase the vehicle, you'll want to check its history to ensure it has not been stolen, has no unpaid loans attached to it, and has no insurance write-offs. 
To do this, you will need the car's VIN (Vehicle Identification Number), which you can then check against databases in the state where it is registered.
Here are the respective links for each area of Australia:
New South Wales, ACT and Northern Territory
Well, congrats! You've made it this far. So, if everything has checked out so far, you can look at taking the car for a test drive.
During the test drive:
Test the steering wheel to ensure it rotates smoothly.

Test the handbrake on a steep hill to ensure it works correctly

Take the car onto different road surfaces

Check that the car shifts gears smoothly

Drive at various speeds, testing the brakes to get a feel for the cars handling


These are the best areas to look at when you're test driving or buying your new car. This is because they are the most common areas of failure, and most likely to have something wrong. 
Now if any of these are off, reconsider the price or even buying the car altogether.
If you're happy with the car and you'd like to buy it, it's time to enter negotiations with the seller! Wooo, this is the most exciting stage! 😆
Keep a note of any issues the car has, and use them to negotiate the price down. Start reasonably below the seller's original asking price, allow them to counter your offer, and from there you can work between the two price points and find a number that works for both parties.
Double check that the registration and any other documents match the details of the seller. Never accept photocopies, always ensure you're getting the original documents.
In some states, the seller may be required to provide a mobile roadworthy certificate. This can give you as the buyer extra peace of mind knowing that you can immediately drive the vehicle safely home. 
We can come to you to check the vehicle and if everything checks out, we can provide the certificate on the spot. You can find out how much they cost here.
Once a price has been agreed and you've purchased the vehicle, you'll need to register the vehicle in your name. To do this you may have to pay a fee (usually $20 or $30), the exact cost depends on your state. Your roadworthy will be valid for 2 months or 2000kms. 
Make sure to also request a receipt from the seller with their full details before departing!
Well there you have it. The best things to look out for when buying a car. Just remember, if something doesn't seem right… Then it's probably too good to be true. 
Don't be afraid to wait. The right car will come around soon enough. Just make sure that you are sticking to these areas and we are sure that you'll buy the best car eventually.
Remember to get your road safety certificates done before the sale of the car. Usually the seller will do this but something they might ask you. If so, you can book in here. 
Let us know in the comments below what you usually look for when you buy a car, share with the rest of us! 😁