Trailer Roadworthy
Certificate
Fast, Professional and Reliable Service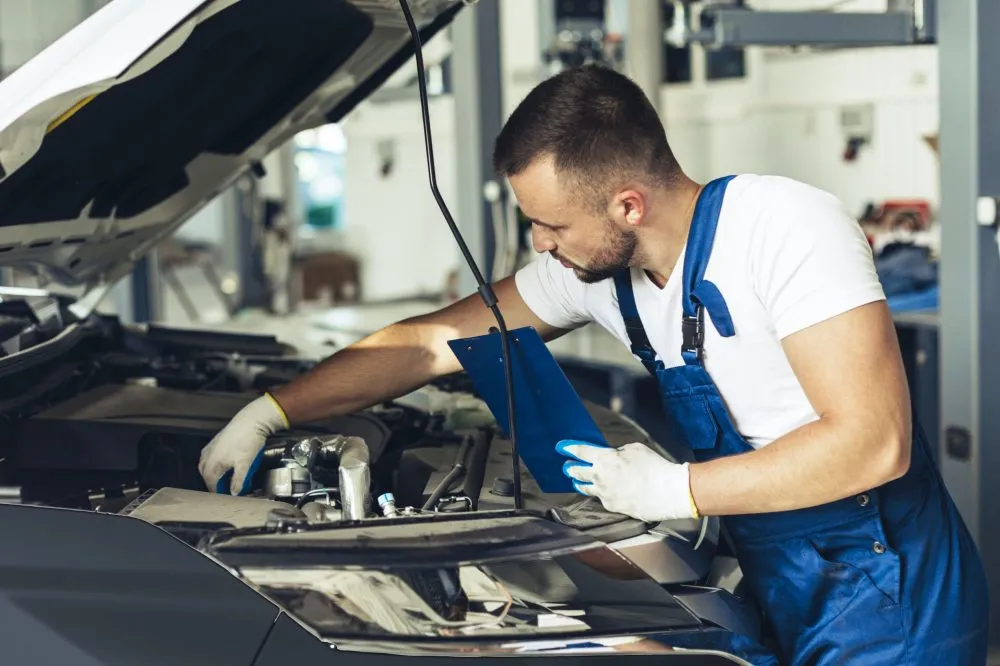 Trailer Roadworthy Certificate
Fast, Professional and Reliable Service
Available 7 Days. 7am - 7pm

Roadworthy Safety Certificates
Simple, fast and we come to you at a convenient time to issue your roadworthy safety certificate.
Available 7 Days. 7am - 7pm
Trailer Roadworthy Certificate
At the end of the day, roadworthy certification is vital when looking to buy or sell a vehicle of any kind. It is a process that may seem like just a piece of paper. However, it is of the utmost importance when ensuring the safety of yourself, your loved ones and others utilising Australian roads. At ASAP Roadworthys, your time is important to us! Which is why we make the essential process of obtaining a roadworthy certificate for your vehicle simple by coming to you.
What We Offer:
We are available seven days a week, attending the most convenient location that suits you while providing efficient and effective inspections, evaluations and certifications.
Benefits of a Roadworthy Certificate Brisbane:
Obtaining a roadworthy certificate Brisbane is not only required by law, but it also offers a wide range of benefits.
These benefits include but are not limited to:
Increasing your number of potential buyers
Allowing you to safely and legally operate a vehicle on Australian roads
Required for documentation transfer of a car into another party's name
Peace of mind of optimal performance and condition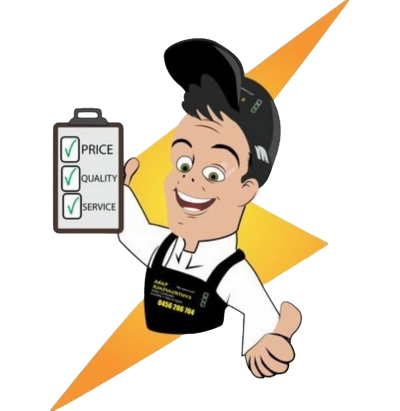 When do you need a Safety Certificate?
Your registered light vehicle is offered for sale in Queensland
Transferring registration to a new owner
Transferring to a Queensland registration from another state/territory
Re-registering an unregistered vehicle 
Why do I need a Safety Certificate?
The Safety Certificate is designed to keep vehicles that are on the road safe to avoid accidents caused by un-roadworthy and defective vehicles. This offers the buyer protection when purchasing that the vehicle meets the minimum safety standards.
How long are safety certificates current for?
A Safety Certificate will take approximately 30-45 minutes. At the completion of the inspection, a detailed report will be issued and emailed to you. If the vehicle fails the safety inspection, you have 14 days to rectify the problem and call us back out for a re-inspection.
Licensed motor dealers: Certificates are valid for 3 months or 1000km (whichever comes first) from the date of issue.
All other sellers: Certificates are valid for 2 months or 2000km (whichever comes first) from the date of issue.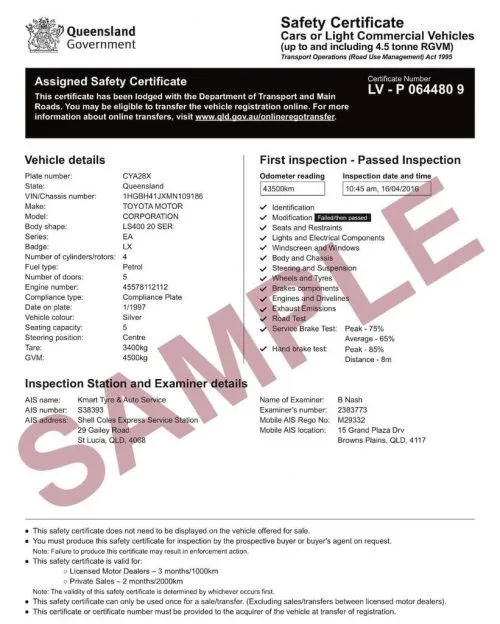 What vehicles require a Safety Certificate?
Cars
Motorcycles
Trailers (including caravans) with an aggregate trailer mass (ATM) over 750kg
(up to and including 3,500kg)
Any other vehicles up to and including 4.5t gross vehicle mass (GVM)
What does the Safety Certificate inspection cover?
During our mobile roadworthy inspection, we delve deep into the condition and functionality of the vehicles following:
Tyres
Brakes
Steering
Suspension
Body rust or damage
Windscreen
Lights
Seats
Official forms and resources from the Queensland Government Department of Transport and Main Roads
Motorcycle Roadworthy Certificate with ASAP Roadworthy
ASAP Roadworthy have been proudly servicing the residents of Gold Coast, Ipswich, and Brisbane and its surrounds for many years with our mobile roadworthy inspection service. Our highly trained, expert mechanics are passionate about and dedicated to providing a convenient, fast service and a one-of-kind experience. We have one goal in mind – that yourself, your loved ones and other users of the road, are safe! Our attention to detail and meticulous inspections are top of the line and set us apart from the rest. As promised in our name, we will get the job done right the first time and ASAP, so you can be out on the road in a safety certified trailer in no time. We won't just meet your expectations; we strive to exceed them, every time!
Find out why our clients in Brisbane, Gold Coast and Ipswich areas keep coming back to ASAP Roadworthy for car, motorbike and trailer roadworthy certificates as well as pre purchase inspections.
What Makes Us Unique?
Convenience of Service: Many of our customers in Brisbane, Gold Coast, and Ipswich prefer to obtain their trailer roadworthy certificate from us because of the convenience that comes with using our services. We provide top notch services to all our clients whether it be trailers or caravans, as long as you need a safety certificate that will get you on the road in Southeast Queensland. Rest assured that our experts will come to you at any convenient location of your choosing to get the job done.
Customer Service: ASAP Roadworthy is reputable for the quality of service provided to all clients on a regular basis. We are diligent in our operations, and we consider that service satisfaction must be afforded to all customers. No exemptions! We are aware that getting a safety certificate is not just good to you, but it stretches further to ensure that our roads are occupied by roadworthy cars, which invariably becomes advantageous for everyone on the road. In that regard, we believe it's of utmost importance to get a RWC for your trailers and caravans. Whether you want to buy, sell or register your trailer or caravan in Ipswich, Brisbane or Gold Coast, at any time of your choosing, rest assured that we have got your needs entirely covered.
Expertise: Our experts have the necessary skill set to execute a thorough inspection and evaluation of your vehicle, and then the eventual issuance of RWC if the vehicle of attention meets the minimum safety standard. Our primary aim is to ensure your safety, your loved ones, and the safety of the larger populace who ply the road too. If you hire us, we urge you to be relaxed as your vehicle will be assessed by competent professionals who know exactly what they are doing.
Testimonials: We have a good rating on Google as a result of the positive things our clients have to say about our services. In this part, we will include a few reviews of what others have to say about our service. We hope that this will further convince you that we are the best hands that you will get in Gold Coast, Ipswich and Brisbane for your vehicles.
Alexis Raas
Couldn't be happier with the service I received. I managed to get a same-day pre-purchase inspection AND roadworthy done, was completed in a matter of hours and a full-length report promptly emailed to me. Definitely worth the investment, helped me to get a much fairer deal on my new car thanks to Isaac and the team. Awesome work!
Angie Tomic
These guys are great, always willing to go the extra mile and help out especially in urgent situations. Very professional and easy from booking to getting the certificates sent quickly via email. Love a tech forward mechanic!
Julia Richardson
These guys are amazing. They were friendly, fast, organised, honest and very good value for money. Don't waste your time with anyone else, call these guys first, I cannot recommend ASAP Roadworthy enough.
Contact Us
You are a dial away from getting that overly important safety certificate. Our mobile professionals are up and active to get to you at your convenience to get the job done. It takes only a couple of minutes to have your trailer roadworthy certificate delivered to you from when you contact us. So, what are you waiting for then?
Contact us
immediately, let's get started!
Get A No Obligation Quote!
Available 7 Days. 7am - 7pm
At ASAP Roadworthys we beat any price!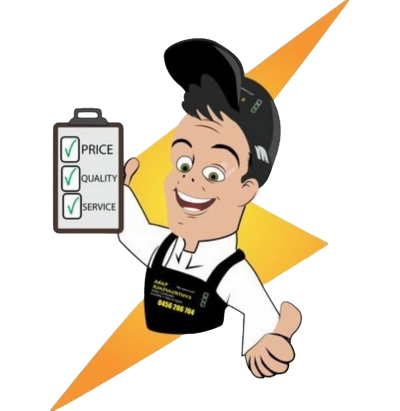 We service a wide range of vehicles including:
Fast, Professional and Reliable Services
Safety Certificates, Pre-Purchase Inspections, Gas / HVRAS & more from Brisbane to the Gold Coast & everywhere Inbetween, Including Caboolture, Ipswich, Logan & surrounding suburbs.
View our full list of service areas here. If your area or suburb is not included on this 
list Contact Us to see if we can help. 
For the fastest response, pick up the phone and call us!
[google-reviews-pro place_photo=https://www.asaproadworthys.com.au/wp-content/uploads/2020/02/favicon.jpg place_name="ASAP ROADWORTHYS" place_id=ChIJ_fwrGDYbkWsRjyRAdne8MhQ auto_load=true write_review=true view_mode=badge_left nofollow_link=true]