Heavy Vehicle Pre-Purchase Inspection
Organising a pre-purchase inspection has never been easier!
Have our Queensland Government Approved Examiners
look over your next purchase, ASAP.
What is a Heavy Vehicle Pre-Purchase Inspection?
For those diving into the heavy vehicle market in Queensland, our Pre-purchase Inspection is an invaluable tool before acquiring your new truck or other heavy vehicle.
This rigorous report provides a deep dive into the condition of trucks, trailers, buses, and more. Make your substantial investment with confidence and the insights from our expert examiners here at ASAP Roadworthys.
Heavy Vehicle COI vs. Heavy Vehicle Pre-Purchase Inspection: The Differences
A Heavy Vehicle COI is a required examination aligned with Queensland Transports Code of Practice, confirming the roadworthiness of a heavy-duty vehicle. However, for a comprehensive understanding of the vehicle's overall health, the Heavy Vehicle Pre-purchase Inspection is unparalleled.

This in-depth report provides potential buyers in Queensland a full picture of their heavy vehicle investment before confirming your purchase.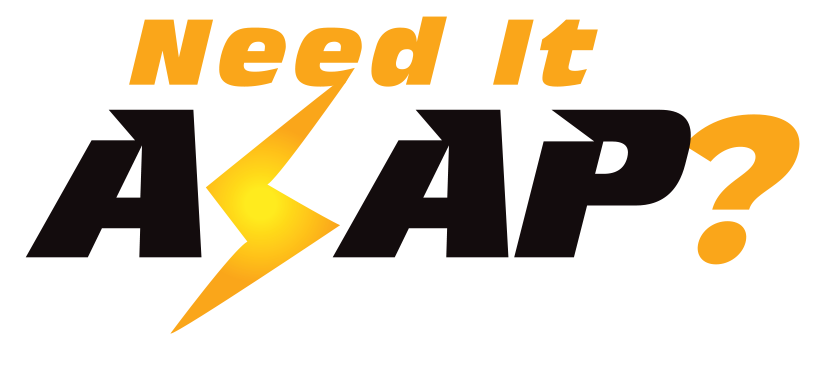 Book Your Truck Pre-Purchase Today!
Simply pick a time & date that suits best, and we'll handle the rest!
What is Included in Your Pre-Purchase Inspection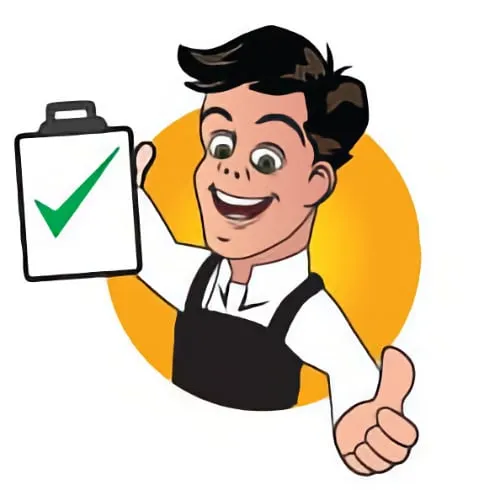 We are available seven days a week, attending the most convenient location that suits you while providing efficient and effective inspections, evaluations and certifications.
Benefits of a Pre-Purchase Inspection:
Make sure the vehicle you are purchasing is safe and roadworthy before you buy.
These benefits include but are not limited to:
Potentially save yourself thousands out of pocket from buying a lemon
Use your hard earned $ to make the correct choice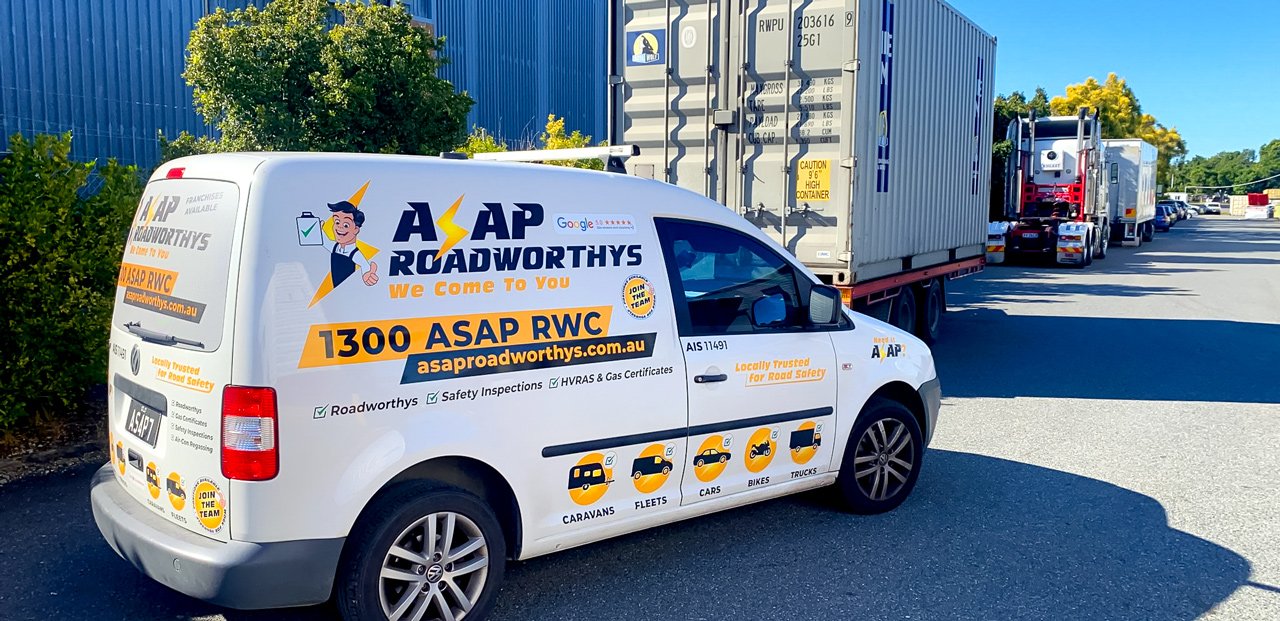 What is included in a Pre-Purchase Inspection with ASAP Roadworthys?
Detailed emailed report including findings
Photos Interior, Exterior, Engine bay & Wheels Tyres
Road test results
Comments on all components tested
Overall Comments
Verbal report upon completion to answer any questions you may have
Comprehensive PPSR report this will provide you with current information such as any reported, stolen, write-off and security finance/insurance interest state of the vehicle, previously known as REVS check.


This inspection takes 1-2 hours and a detailed report with photos is emailed directly to you upon completion.
We do not require you to be there, many customers are unable to take time off work, or you may be an interstate buyer. We are your eyes and ears.
Learn more about our Terms of Inspection here.
Why should I get a Heavy Vehicle Pre-Purchase Inspection?
Save your valuable time! Leave it to the professionals.
We are a mobile service convenient for buyers & sellers.
Helps you set a more accurate price during negotiations.
Potentially save yourself thousands NOT buying a lemon.
Let us help you ensure you make a smart & safe purchase.
We Provide Pre-Purchase Inspections for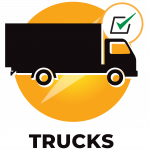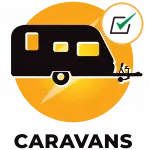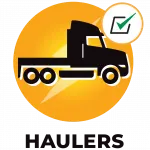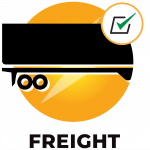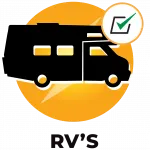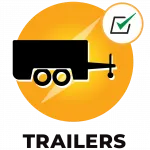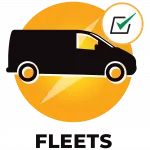 Why Choose ASAP Roadworthys?
At ASAP Roadworthys, we have been proudly servicing the residents of South East Queensland and its surrounds for many years.
Our highly trained, expert mechanics are passionate about and dedicated to providing a convenient, fast service and a one-of-a-kind experience.
We have one goal in mind – that you, your loved ones and other road users, are safe! Our attention to detail and meticulous inspections are industry leading and set us apart from the rest.
As promised in our name, we will get the job done ASAP, and make sure it's done right, so you can be out on the road in a certified safe vehicle worthy for the road, in no time at all. We won't just meet your expectations; we strive to exceed them, every time!
Whether you are looking to buy, sell or register a vehicle, having a current roadworthy certificate is a necessity. Our mechanics are experts in all aspects of roadworthy certificates and pre-purchase inspections. We take great pride and responsibility in every inspection we complete, and our reputation speaks for itself!
You will have the confidence and peace of mind that you are always in the most capable hands with ASAP Roadworthys.
Sit back, relax, and trust in our reliable team to come to your home or office and take care of all your roadworthy certificate needs.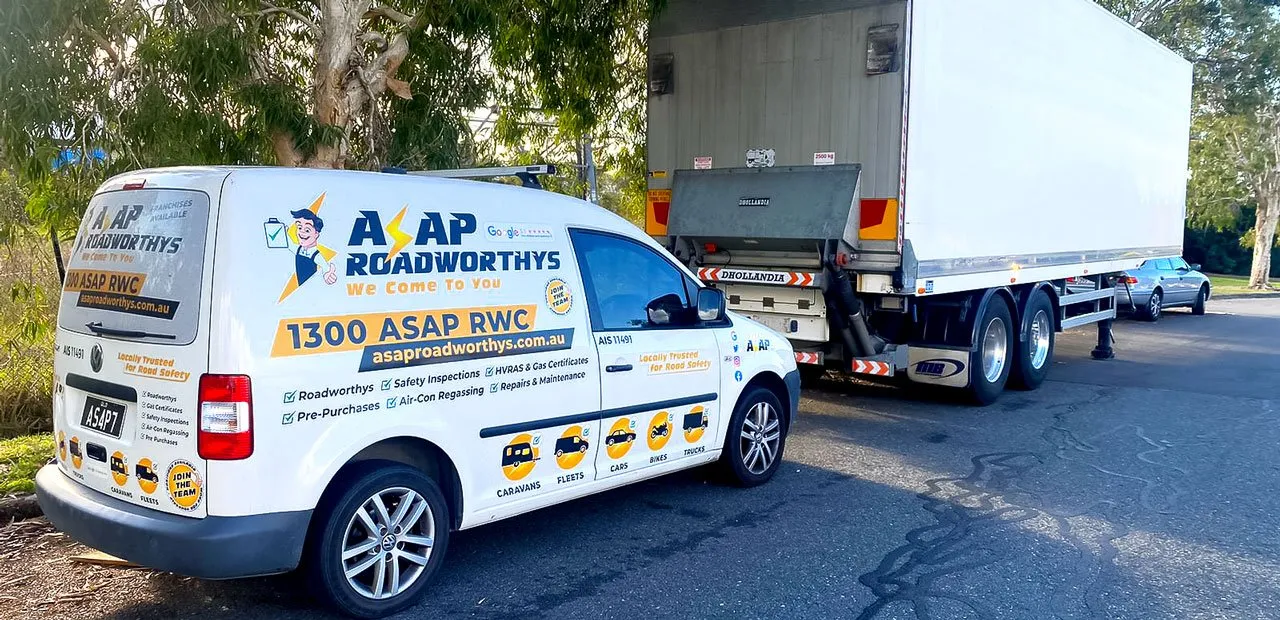 Find out more from ASAP Roadworthys
If you are looking for a fast and convenient pre-purchase inspection that Queenslanders love and trust – look no further than ASAP Roadworthys.
Contact one of our knowledgeable team members today and find out how we can get you on the roads safely, today!