How To Wash Your Car For A Long Lasting, Sparkling Clean
Some people love washing their car, whereas others hate it! But we can all agree that having a nice clean car not only looks good, but maintains the health of your car's exterior in the long run. 
Most of the time, if you do a good job it's satisfying and you can enjoy it. However, if you're not sure what to do it may come across boring or tedious. 
Truthfully, I just love picking up my friends and family in a sparkly clean car 😆, I always get hit with compliments. If you're anything like me, then having a clean car is top of the list…
But, where do you start? If you're looking for a professional style clean, don't bother wasting your money at the car wash? Learn how to ace the job for the first time by yourself. 
We've got all of the inside secrets that car washers don't want you to know 🤫 It's simple and you can do it yourself which will save you money and of course leave your car with a everlasting shine so bright it would amaze anyone who looks your way…
If you're looking for some tips on car care, then I've created a guide on how to care for your car here.

Now, if you're washing a car because you're selling it then you will need to get a roadworthy certificate here, and you can see how much they cost here. 
Let's get straight down to business shall we…?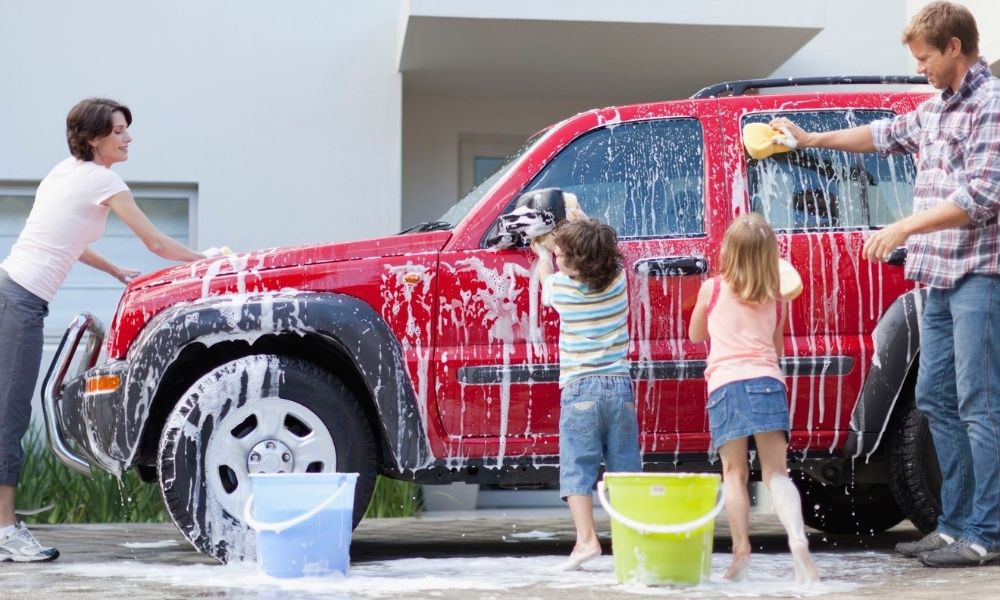 Why is washing your car important?
Well, let's start with the obvious hey! A clean car is by far better than a dirty car. Not only does it look much better but it will also have a high value and be more likely to sell in the future (If you're in the market to sell your car, then I suggest looking at how to sell a car in 2021).
But we all know this right? 
Sometimes it's less obvious, but cleaning your car can actually maintain the exterior paint job, windows and wheels for a much longer life. This means they tend to last longer and keep the quality compared to a car that isn't washed regularly. 
Compounds that are found in mud, rain and grid from the road all have a negative affect on your car's paint. Over time, they can wear it down and actually start to damage your car's exterior with rust. They might look harmless at first… but they'll get ya!
So, if you do care about your car and want to keep it looking good, high in value and not subject to getting rusty then you can see why washing your car is so important.

Also, if you need to get your car roadworthy fast, then having it clean and maintained well its a big plus to getting your car safety certificate. 
How often should you wash your car?
I love this question because it's different for everyone. Based on a few factors you may need to wash your car more often than others. Now, before I go through these I just wanted to debunk any myths about washing your car too much… 
If you stick to using quality equipment and soaps then you will be fine washing your car frequently. Also, sticking to this regime and the way we do it will keep your car fine. You may cause damage by over washing using automatic machines or harsh chemicals with pressure washers. 
Now, on average we would suggest washing your car every 14-20 days. This is around every 2-3 weeks depending on how busy you are, or how much you like having a clean car. Don't stress about over washing it this way because our techniques have been tried and tested. 
Of course, if you're selling your car then you might wash it more often because people will view it. If you're getting a professional car inspection then its best to wash it well before. 
Here are some factors that may mean you need to wash your car even more often:
You live near the sea (salt corrosion leads to rust)

The climate of your country is hot (washing and waxing can help maintain paint)

There is a lot of snow (grid can cause corrosion and paint damage)

Do you drive through any construction areas or building sites?

How often do you go outback, or off road? 

Do you drive on the beach a lot? 

If you live rural, you might get more bugs and insects splattering on your vehicle 

Do you keep your car in a garage (its protective, can wash it less often)
Some of these factors may require you to wash your car more frequently, or less frequently. You may find that as Australians, we drive on beaches a lot and definitely go outback. You should maintain your car's health by giving it a good wash every 10-14 days or so. 
How long should you be washing your car for?
On average, we suggest that you wash your car for around 30-40 minutes. You don't need to go to excess and clean your car for hours… that's a bit too much 🤣. An easy way to break down the time would be to split it into sections:
You can have 10 minutes for each different area:
10 mins for exterior 
10 mins for windows
10 mins for wheels 
10 mins for after clean wax/polish
How to wash your car like a professional
Before we get started with our process, please ensure that your car is parked in a cool, shaded area that has easy access to water and drainage so that you don't end up in a puddle. 
You will also need to consider how easy it is for you to move around the car when cleaning to make sure you have enough space and haven't parked too close to any walls etc.
Rinse down the car:
Get started with the first initial rinse down of your car. By getting it wet and rinsing it with fresh water you are loosening up any dirt and minerals that could be building up on your car. Make sure you include the wheels and wheel arches. 
Mixing up your soaps:
Mix your car care soaps and washing liquids in a bucket with water. We suggest filling the bucket up ¾ full and adding a good splash of your soap. If possible, try to avoid house soaps for kitchen and grease as they can strip away the paint. ALWAYS keep a separate bucket full of clean water to rinse your sponge or mitt. 
Scrub, scrub & scrub:
Begin your cleaning by giving your car a good scrub all over. Start from the top and work your way down, it's important to do this so you don't miss any areas. When you're washing, use circle motions to ensure an even clean. Remember, don't press too hard as you might grind some dirt or minerals into your paint and scratch it. 
Rinse off the soap:
Start from the top, use fresh water to rinse down your car and all of the areas that you have cleaned. Don't spray the hose too hard, keep it on a normal pressure setting and make sure that the dirt flows down and off the car.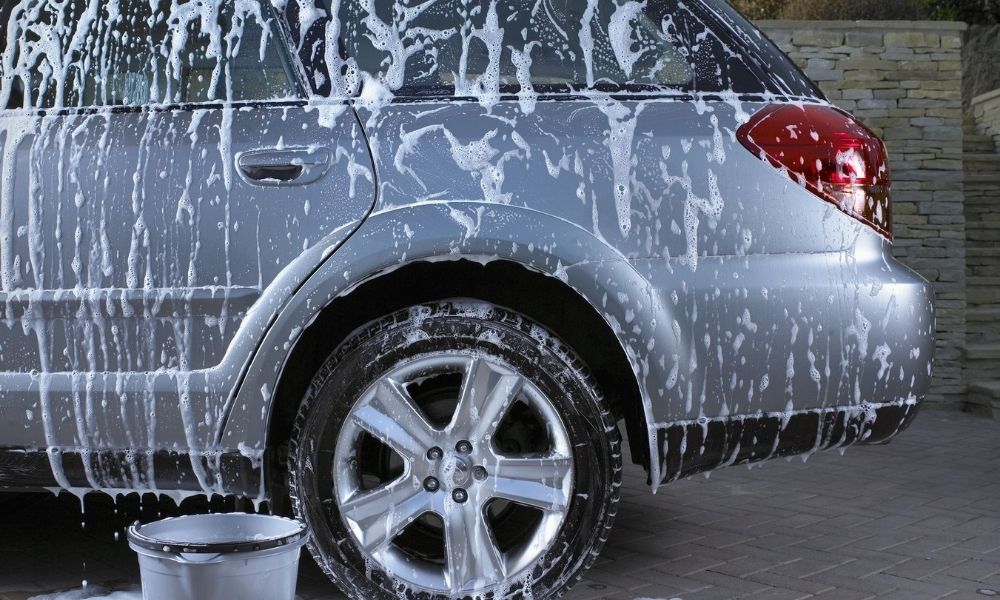 Spray your cleaner onto the wheels:
Apply some cleaner directly onto your wheels and use a scrubbing brush with some pressure to work away the excess grease, oil and dirt. Try not to scrub too hard that you will scratch your rims but more in a slow, circular motion. 
Rinse thoroughly:
Splash down your set of wheels with fresh water to remove all of the dirty soap and grime. This should give it the flashy looking you're going for.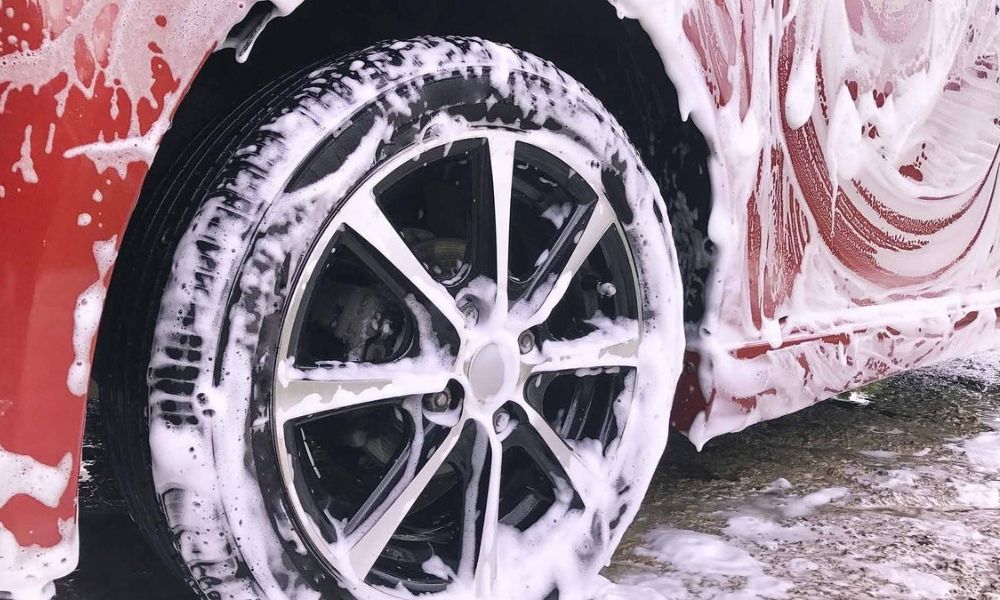 Rinse down your windows:
Get your windows nice and wet so that you can give them a proper clean and remove any bugs, insects or dirt. This can be done quickly, so don't waste too much time doing this. 
Clean your windows using a glass cleaner:
Using a glass cleaner you can start to scrub your windows clean. If you're looking for a squeaky clean then you can use a window squeegee after you have soaped and cleaned it. 
Microfibre cloth with spray:
For the finish touch, you can go over your windows with a clean or glass polisher and a microfibre cloth. Giving it a good scrub can provide ultra transparent windows with a long lasting clean.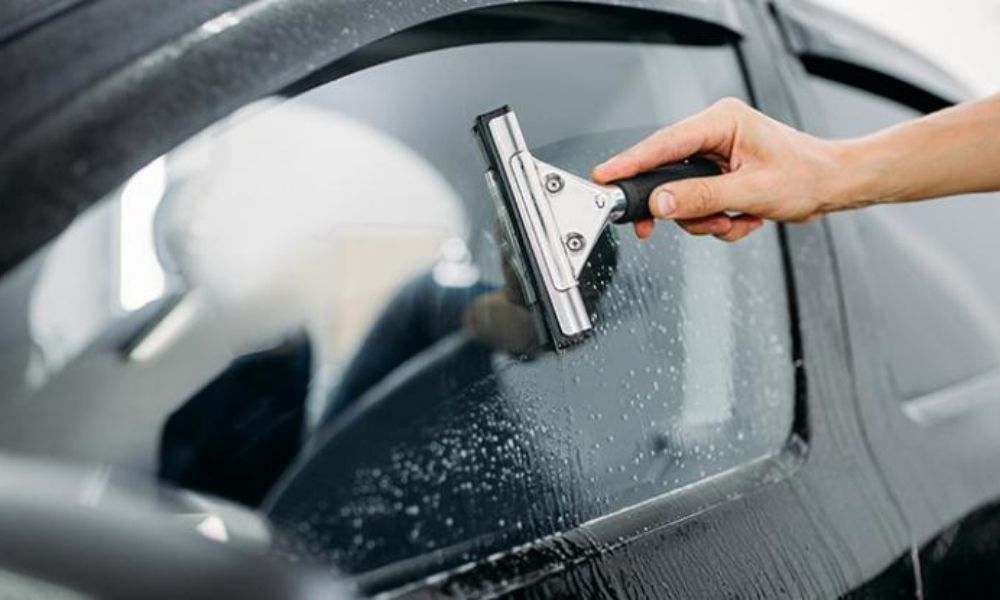 Fortunately, waxing is a nice and easy one. Also remember, waxing doesn't need to happen after every single wash. You could probably look at waxing your car every month or two. 
The benefits are that you are rejuvenating your paint job. The wax also acts as a protective layer against the sun, or dirt and even the rain. 
Spaying or dolloping a nice bit of wax on the gently massaging it into your car will give it that fancy shine to make it look like it came out of the show room 😁…
How to maintain the clean, sparkling look after your wash
Avoid places where you can get dirty.. It sounds obvious but if you know you're going to the beach maybe clean it after or use another car. 
You can also look at getting sprays and waxes that last for a while. Make sure you keep your car out of the sun, in Australia it's hot and it can warp your paint and even penetrate through the protective wax. 
Let us know your thoughts in the comments below, have we missed anything? Do you have a special trick on how to clean your car better? Share with us all below 😁