How To Buy The Best Rooftop Tent In 2021
For decades, rooftop tents have been among the favorites of Australians who like to explore the outskirts of urban cities, outback, mountains, and forests. They provide a cleaner accommodation while also protecting you from some of our famous predators and other unwanted creatures.
Throughout this guide, we'll walk you through the whole process of choosing the best rooftop tent for your needs. We'll also give you a quick roundup of some of the best ones you can get, so stick around!
As we love camping so much, a rooftop tent is a great investment for adventures of all ages. So, without further adieu lets find out how to buy the best rooftop tent.   
If you're thinking of buying a ute or SUV, don't forget to book a pre purchase car inspection here… It could save you $1000's! Don't buy a lemon 🍋 
As you might've already guessed, a rooftop tent is simply a tent that's designed to be set up on the roof of your car. They're intended to be used with 4×4 and SUV vehicles usually because they're usually large enough to accommodate 2-4 people on the roof, and of course, have enough load-bearing capacity. 
You'll need a ladder so you can climb up to the top of your car and get into the tent. Some rooftop tents come with ladders, while others don't.
Rooftop tents are seen as more of a luxurious option to camping and can come with a huge range of benefits. 
How Do Rooftop Tents Work?
Using a rooftop tent is pretty simple, and once you know how to do it, you'll never forget again.
All you have to do is find your perfect camping spot, open the tent, put it on the roof of your car, and climb the ladder. Some tents come with special mounts that let them extend beyond your car roof's dimensions, providing extra floor space to accommodate more people.
Most tents will come with full instructions on how to set it up so that you can maintain the life and health of your rooftop tent. 
Although it seems simple, it's important to make sure you know this step off by heart. Try and keep thing slow so you don't break anything. 

Most rooftop tents are designed to be set up by one person, but it cannot harm getting 2-3 helping hands to ensure your set up is smooth.  
What Are the Benefits of Rooftop Tents?
You might be wondering why in the world would you need a rooftop tent when you can just get a conventional tent?
Well, to answer your question, here are some of the advantages of rooftop tents that could make them a more attractive option than regular tents:
Can Be Used Almost Anywhere
One of the best things about rooftop tents is that you can set them up almost anywhere you want, as long you've got your 4×4 car with you. With a rooftop tent, you don't have to worry about whether the ground is suitable for camping. You can use a rooftop tent to camp in the forest, desert, or mountain. 
Say Goodbye to Dirt and Bugs
One limitation of conventional tents is that they aren't suitable for those who hate bugs and dirt. You're literally camping out there in the wild, so expect anything to climb up your legs while you're asleep. Rooftop tents give you the convenience of enjoying a lovely camping night without having to mess yourself up.
Better Views
Getting off the ground gives you the opportunity to enjoy the beautiful view right from the top of your car. This can be fantastic when camping near cliffs, waterfalls, or any other place where you could benefit from an elevated view.
Perfect for All Weather Conditions
Rooftop tents make it easier for you to camp no matter how bad the weather conditions are. You can use it to camp on sunny and rainy days without facing a single issue. 
Easier to Clean and Maintain
Rooftop tents are much easier to clean and maintain. They don't get dirty quickly because they aren't used directly on the ground. You'll only need to clean your rooftop tent after a rainy night or if you spilt something on it.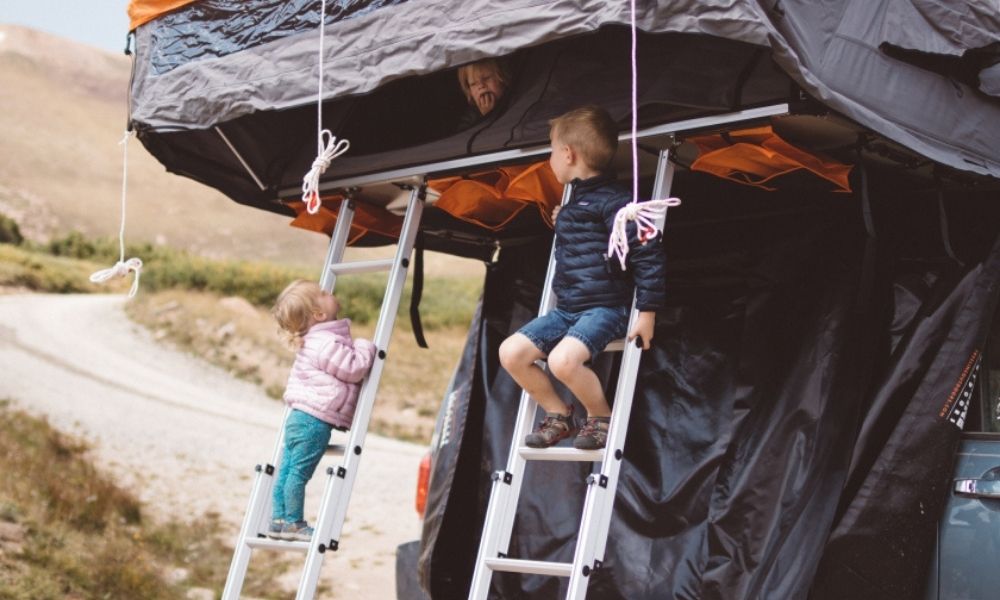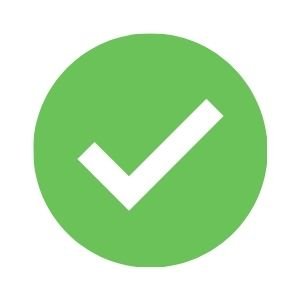 3 Cost Savings Ways To Choose The Best Rooftop Tent For Your Vehicle
Get a Soft Shell Rooftop Tent
One of the biggest advantages of soft-shell rooftop tents over hardshell ones is that they're much cheaper. They also extend beyond your car's roof, offering more space for you to sleep. 
They can also provide a lot of shade for you during the day. We all know how that Aussie sun can hit! 
Make Sure That the Tent Is Lightweight
A lighter tent translates to lower fuel mileage, which will indirectly save you some cash in the long term. You can see this a more of an investment, however most of the time lightweight tents are more affordable. It might save you money paying a little extra for a lightweight tent because you'll save it in fuel costs. 
Don't Buy a Large Tent If You Don't Need It
Do you plan on camping alone?
Or with some company?
If you are camping solo, it'd be pointless to get a 3 or 4-person rooftop tent because it'll just cost you more for no reason. A 2-person tent would be more than enough for you in that case. These days you can get some very large, comfortable 2 person roof top tents. 
5 Of The Best Rooftop Tents That You Can Buy In 2021
Now, let's take a quick look at some of the best rooftop tents that you can find on the market today!
We're kicking off our list strong with the Front Runner, a versatile rooftop tent that doesn't restrict you with the size of your vehicle's roof. The tent extends beyond the available space on the top of your car with the help of the Front Runner mount (not included).
Being made of PVC-coated 400D polyester fabric, the Front Runner rooftop tent flaunts a durable design that's breathable, waterproof, and mold resistant, providing you with a comfy camping experience and ever-lasting durability.
This rooftop tent can comfortably accommodate 2 persons and maybe 1-2 kids. It's also pretty lightweight, meaning that it won't add much to your car's overall weight capacity when traveling. 
At just 200mm, the Front Runner rooftop tent is probably the lowest-profile rooftop tent out there, allowing you to effortlessly fit it in your car. It's also worth noting that this tent comes with a foam mattress. 
Along with the front door, Each of the other 3 sides of the tent has a large window with privacy panels that you can close whenever you need to sleep or change your clothes. Not to mention, the door and the windows are screened to prevent mosquitos and other insects from getting inside the tent.
What We Like:
Lightweight and compact for easy transportation

Screened windows with privacy panels

Durable, waterproof materials

Includes a mattress for extra comfort

Comes with a tent cover and a fly-sheet cover
What We Don't Like:
Bottom Line
With a low profile, lightweight design, and screened windows, the Front Runner rooftop tent leaves nothing to be desired.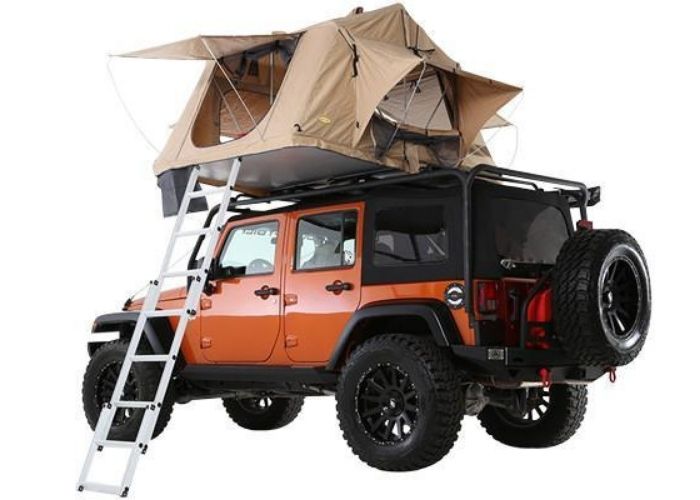 The Smittybilt Overlander takes rooftop camping to the next level by offering a floor space of 38 sq. ins. and a maximum height of 51", allowing you to comfortably enjoy your camping trip. It's definitely one of the most spacious rooftop tents on the market.
On top of that, the Smittybilt Overlander uses best-in-class 600D, polyurethane-impregnated polyester fabric, ensuring maximum durability and full rain protection. 
It also comes with a 420D flysheet that lets you enjoy the view outside during the rain without messing yourself up. 
One notable feature of the Overlander is the included rubber boot bag that lets you store your muddy boots away from the tent's mattress. Another feature that we really love is the LED light strip that makes it easier for you to see inside the tent at night. 
Setting up the Smittybilt Overlander is pretty straightforward. All you have to do is undo the 2 straps and remove the cover.
The ladder is pretty sturdy, and it'll definitely hold up quite well with moderate to heavy usage. Our only problem with this tent is that it's somewhat heavy, which may make transporting it more of a hassle.
What We Like:
Made of high-quality, waterproof materials

Large floor space

Easy setup

Comes with an external boot bag

LED light strip for better visibility at night

Durable ladder
What We Don't Like:
Somewhat heavy compared to other rooftop tents

You'll probably need to drill the ground to set up the ladder




 
Bottom Line
There's a lot to love about the Smittybilt Overlander; from the spacious floor space to the LED light strip and the included boot bag, it's hard not to recommend this rooftop tent. 
The Thule Tepui Explorer Kukenam is designed to be used with smaller SUVs. It has enough space to accommodate up to 3 persons, which is pretty impressive for a rooftop tent.
What's more, the tent is made of waterproof, UV-resistant, and mold-resistant materials, with a combination of a 260G polyester/cotton blend and a 600D polyester coating.
To add, the Explorer Kukenam comes with a padded foam mattress that provides you with an unprecedented level of comfort during sleep. Not to mention, there are 4 internal storage pockets that allow you to store your gear and keep the tent organised.
Finally, the mesh panels provide adequate ventilation and bug protection while also giving you an unobstructed view.
What We Like:
Accommodates 3 persons

Includes a foam mattress 

Constructed out of durable materials with excellent resistance to the elements

4 internal storage pockets

Mesh panels for good ventilation
What We Don't Like:
Bottom Line
While the Thule Tepui Explorer Kukenam carries a high price tag, we're quite impressed with what it has to offer, including the outstanding materials, the padded mattress, and the spacious interior, to name a few.
Looking for a premium rooftop tent? The iKamper Skycamp 2.0 might just be what you're looking for. So, what makes the iKamper rooftop tent stand out from the crowd? Well, for starters, it boasts a hardshell design that offers excellent air insulation, condensation resistance, and soundproofing. Even the zippers are waterproof! How cool is that?
On top of that, the tent's hard shell is covered with a thick polyester canvas fabric for rain protection. Oh, and guess what? The iKamper Skycamp 2.0 rooftop tent can accommodate up to 4 persons. With a floor space of 49 sq. ins., this is one of the most spacious rooftop tents on the planet.
Another welcome addition to the iKamper is the Skyview window in the roof that lets you enjoy the view on starry nights. 
The iKamper Skycamp tent also comes with a telescoping ladder that has a weight capacity of 300 lbs, providing unmatched durability and strength.
What We Like:
Top-class hardshell construction

Excellent insulation and soundproofing

Durable telescopic ladder

Integrates a Skyview window

Enough room for 4 persons
What We Don't Like:
Bottom Line
The iKamper Skycamp 2.0 is one of the most premium (and pricey) rooftop tents you can get. It's spacious, made of top-notch materials, and has a Skyview window; you just can't ask for more!
The last rooftop tent on our list is the Thule Tepui Low-Pro 2. At just 105 lbs, it's one of the most lightweight rooftop tents on the market. 
Moving on to the design, the Tepui Low-Pro 2 boasts a thermoplastic construction that's made of recyclable and durable materials. Additionally, the breathable ripstop polyester provides mildew and UV resistance.
The integrated dome canopy does a great job at insulating the tent, but not enough to make the Low-Pro 2 an all-season rooftop tent, though. On a side note, we're impressed with the zipper system that makes it super easy for you to attach the canopy to the tent's base. It's arguably a one-of-its-kind.
The most obvious downside of the Low-Pro 2 tent is that it can only accommodate 2 persons, but if you don't need the extra space, its lightweight design definitely makes up for that.
What We Like:
Lightweight thermoplastic design

Made of recyclable materials

Patented canopy zipper system

UV and mildew resistant
What We Don't Like:
Accommodates 2 persons only

Not suitable for harsh weather conditions

Bottom Line
If you're looking for a compact and lightweight rooftop tent for casual camping, you'll definitely enjoy the Thule Tepui Low-Pro 2.
Conclusion: Are Rooftop Tents Worth It?
When all is said and done, rooftop tents are definitely worth considering. Camping can get quite messy when you use traditional on-ground tents, and in some cases, it can even be dangerous. A rooftop tent lets you enjoy a calm camping night without compromising comfort. 
However, keep in mind that most rooftop tents don't provide as much floor space as regular tents, and the reason, of course, is to save your car's roof from getting destroyed. So, don't expect your new rooftop tent to accommodate 5 people. 
Nevertheless, as we've said, a rooftop tent is a worthy investment that will make your camping trips more fun and less skanky. Before buying any tents, ensure your vehicle is roadworthy, and you have the correct gas safety certificates.