How Long Does A Gas Certificate Last?
So if you're an avid adventurer who owns a caravan or motorhome, you might have been requested to obtain a gas safety certificate. However, you need to make sure that you are getting this certificate within the right time or else it could be invalid.
Every day we usually have customers asking us how long a gas certificate lasts. Well, we thought we'd create this article to help you get the answer you're looking for quickly and effectively.
Let's not waste any time, here's what our Queensland approved examiners are saying how long gas certificates last for. Don't forget, if you are in need of a gas certificate you can contact us and book online in under 6o seconds.
What is a Gas Certificate?
A caravan gas certificate is a safety certificate that you must acquire if you plan to install gas appliances in your motorhome, trailer, RV, Camper vehicle or recreational vehicle. 
It is a legal requirement by the QLD government.  Imagine that you have purchased your own motorhome and can't wait to go off-grid and experience some of the best adventures. 
Before you get ready to cross off items on your bucket list, you need to consider some crucial things about your caravan, especially if you are dealing with high-risk gas. 
In this case, a QLD-approved gas technician inspects your caravan's gas for your safety and the safety of other road users.
You need to have the vehicle checked every time you install gas appliances such as stoves, cooktops, or fridges on your motorhome. This reduces the risk of any severe injuries and unexpected gas issues. 
Who is a Gas Certificate For?
The gas certificate is for anyone planning to install or has already installed gas in their motorhome or RV. There are multiple reasons why you might need to install gas in your RV, including for heating or to power your appliances.
In this case, you must acquire a gas compliance certificate to ensure that you are fully road legal and safe during your adventures. Some of the appliances that the gas compliance inspection assesses include:
Cooker

Fridge

Hot water

Space Heater

Gas tightness

Regulation running pressure

Ventilation for the appliances

Bayonet

Anode replacement

Gas lines 
If your RV or motorhome is new, the inspection is pretty quick, and more often than not, you pass it on the first try.
However, if the vehicle is old, gas inspections may take longer. In this case, the extra time is to ensure that your appliances are properly functioning and that you are safe. 
How Long Does a Gas Certificate Last?
So, a gas compliance certificate lasts for three months after the date of inspection. It is a single-use document that must be processed once through the Queensland Department of Transport. For the purposes of compliance, you must acquire a new one every time you install a new gas appliance or change one. 
Each time you hire someone to work on your appliances or any part of your LP gas system, you are legally required to get another gas certificate. If you decide to sell your RV, you must also present a valid gas certificate. This certificate should have been issued within three months of the sale being completed.
When Should You Consider Getting Your Gas Certificate?
You should get your gas certificate as early as possible to avoid any inconveniences. This gives enough time for inspection and any fixing that might need to occur.
Once you buy your RV, camper home, or trailer, you must get the certificate immediately. Additionally, you must also have a valid certificate when you need to transfer ownership or sell the caravan.
If you sell or buy a motorhome, you must have the vehicle reinspected by a licensed professional, even if your gas certificate is valid.
Ideally, the certificate must be dated not more than three months before the transfer of ownership. Let's check out a summary of incidences when you should consider getting your certificate:
When you buy a new caravan that has never been registered.

When you move from one state to another or transfer your vehicle's registration.

In case your registration expired more than three months ago. 

If you are selling or buying a trailer or caravan.
So, in case you want to install a lavish gas appliance in your new motorhome, make sure to get the vehicle inspected.
Although the process might appear a little frustrating and demanding, it is for your own safety, especially if you plan on going completely off the grid in areas without phone reception.
Make Sure You Don't Leave It Too Late to Book Your Gas Certificate.
If you leave it too late to book your gas certificate, you could experience inflated prices, especially if you need next-day service. Ideally, how much you pay for the gas compliance certificate depends on the country and how soon you need it. If you decide to get the certificate last minute, the price can increase if there is higher demand. 
This price can quickly skyrocket if you leave it too late to book. Hence, as soon as you acquire ownership of a caravan, consult us for the inspection and obtain the gas certificate. 
It is advisable to have a certified gas technician help you with the process. Ensure that the technicians show you a copy of the QLD inspection certificate to avoid scammers.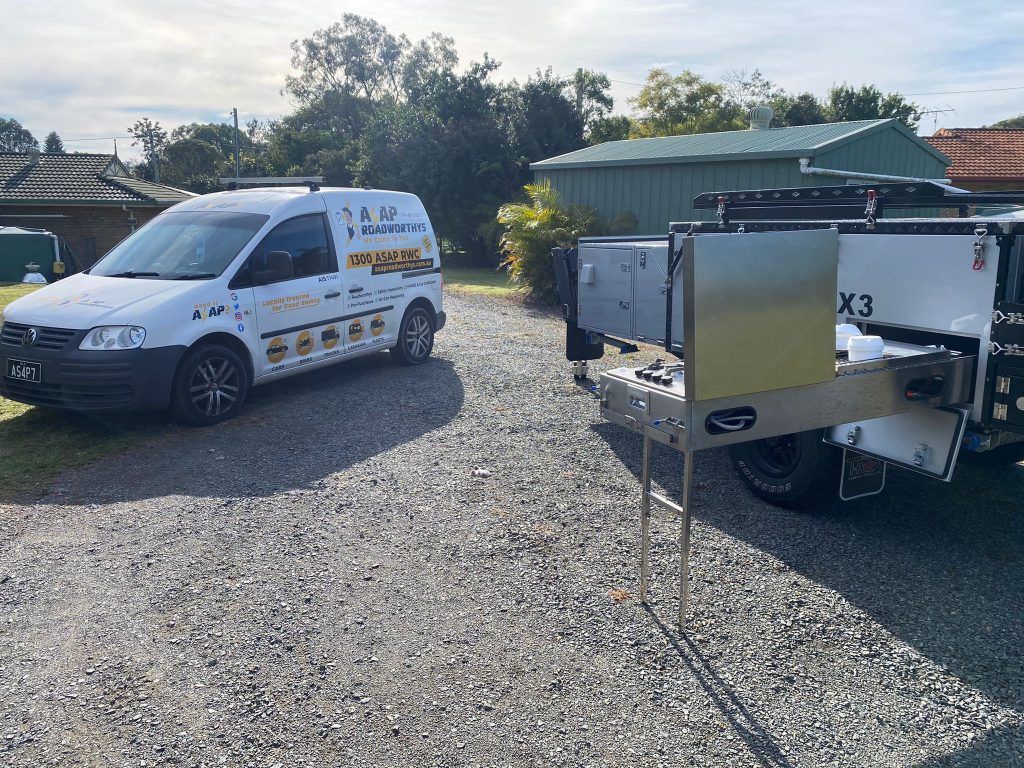 We understand the excitement that comes with acquiring your RV or motorhome. The unexplored opportunities that lie on the horizon and the adventures that you can't wait to embark on.
Well, we are here to ensure that you remain safe and have peace of mind even as you drive off to have the time of your life. 
We can help you obtain the gas compliance certificate as soon as possible. We have mobile mechanics that go out and inspect the caravans. After several tests and inspections, you get a compliance certificate if your caravan passes.  
Our prices are affordable and fair, and you do not have to worry about the technicalities associated with the process.
You don't have to worry about gas explosions or issues if you have a valid gas compliance certificate. You can enjoy your adventures blissfully and without any worries.