Are Pre Purchase Inspections Worth It?
So, you might be interested in buying a new car, but like most people (other than mechanics) you don't really understand what you are looking for. 
Don't stress, this is really common. We come across car buyers like this all the time. Everyone has to start somewhere, right? 
Now, I can appreciate just how stressful buying a car can be, especially if you are planning on parting with a large sum of money for your new car. It's the worst feeling in the world when you buy a new car to find out the next month you need to spend $1000's on repairs…
Well, this is where a pre purchase inspection comes in handy.
It's like having a best friend who knows a lot about cars 😆.
By having a fully qualified mobile mechanic by your side you can rest easy knowing that the car you buy is going to be a good one. 
Of course, as humans we all like to think we know what we are doing and we can handle ourselves.
So, the question that you must all be asking… are pre purchase inspections actually worth your money?
To find this out, first let's take an unbiased dive into what the hell a pre purchase inspection is, and why it might be worth investing in for you…
What Are Pre Purchase Inspections?
In a short summary, a pre purchase inspection in a comprehensive inspection/report of a vehicle's quality, safety, performance and value conducted by a qualified mobile mechanic. 
In even more simple terms, essentially a pre purchase inspection will tell you if it's worth buying the car you want or not. The inspectors are actually on your side, so they will give you an honest report of how good the car really is.
They are designed to give you peace of mind when parting with your hard earned money to ensure you are not going to be buying a lemon. Unfortunately, not everyone is honest these days so buying a car can be a risk. 

How good is that?

Having a qualified mechanic on your side and telling you the TRUE value of the car that you are looking to buy. Most of the time, you can knock down the owner or sales person to a realistic value of the car's worth.

For car owners looking to sell, you can show any potential buyers exactly how much your car is worth so if they try to squeeze you down, you know the true value and can move them on.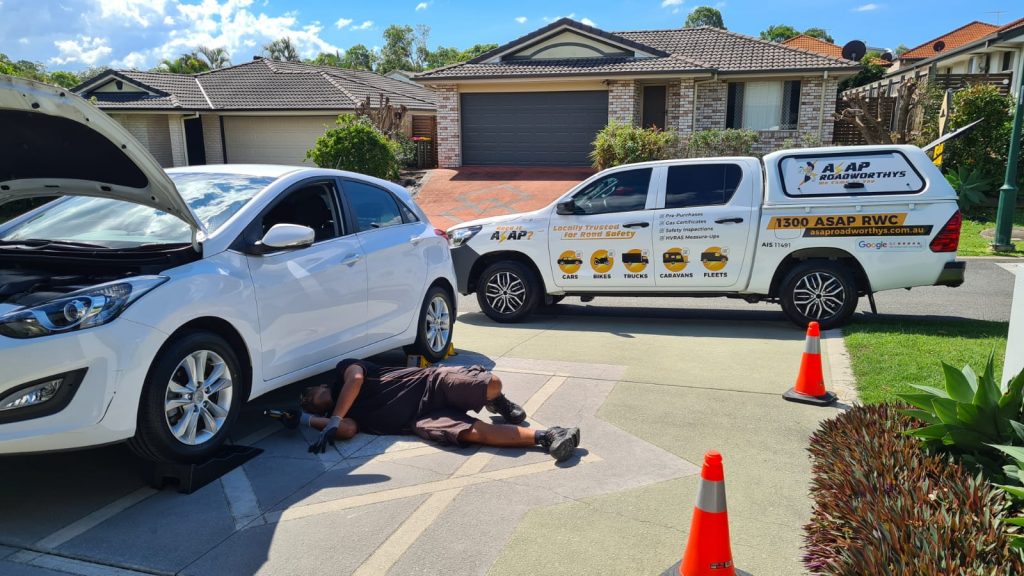 What Does A Pre Purchase Inspection Include?
One great thing about pre purchase car inspections is that they are really comprehensive. There is so much included that you feel like you already own the car! 😆
This way, you can really understand your future with this car, and if it's worth buying it or not. 
Here is a list of all of the areas included in your pre purchase vehicle inspection:
Tyres & Wheels 

Brakes

Steering & Suspension 

Engine & Gears

Interior Of Car

Exterior Of Car

Undercarriage 

All Electrical Parts 

Pictures Of Car

Written Report With Key Points 

Personal Advice From Inspector (Phone Call or Meeting)
You can also ask our inspectors as many questions as you seem fit. After all, they are there to help you get the most information before you buy (or before you sell). 
If there is any particular information or reports you are looking for then you can request this before your booking.
Are Pre Purchase Inspections Worth It?
Summary: Is a pre purchase inspection worth my money?
So, it really comes down to this one question…
Is it worth getting a pre purchase inspection? 
Well, for someone who knows about cars and works as a mechanic, maybe it wouldn't be.

However, for someone who doesn't know much about cars, who doesn't have much time to learn about them and really just wants to have an honest rundown of the car they might buy… Then yes, it's definitely worth it. 
Your car is a huge asset, similar to your home. Why risk taking a chance buying one that may only last a few months and potentially put you seriously out of pocket?

We have a saying here at ASAP Roadworthys… Don't buy a lemon! 🍋
Also, the benefits can be huge for both the buyer and the seller. We will go into this in more detail below. It's definitely worth getting a pre purchase inspection if you are planning on buying an expensive car. 
Anyway, here's 6 reasons why pre purchase inspections are worth it for both the buyer and the seller of the vehicle…
6 Reasons Why Pre Purchase Inspection Are Worth It...
1. They can save you $1000's of dollars in repairs
Seriously, they could save you $1000's in repairs. By choosing not to buy a car because the pre purchase identified heaps of issues with it will be one of the best decisions you make. Unfortunately there are many sellers who aren't honest and won't tell you any issues with the car because they just want to sell it.
2. Shop with confidence knowing that you are making a risk-free decision
For those who don't know much about cars, it can be daunting viewing one without a trained eye and knowing what you're looking for. Pre purchase inspections can take the risk out of buying a car and ensure that you are shopping in confidence.
3. You will be able to sell more cars
For those who don't know much about cars, it can be daunting viewing one without a trained eye and knowing what you're looking for. Pre purchase inspections can take the risk out of buying a car and ensure that you are shopping in confidence.
4. Identify any underlying issues
This might actually be the car of your dreams. Even if there is an issue, at least you can know upfront exactly what needs to be repaired. You may even find that some stuff might need doing straight away, whereas other issues may be warnings and still have months of good use. Pre purchase inspections give you insights into any underlying issues there may be.
5. Gain experience for the next time you buy or sell
Of course, you can learn from what the inspection does and says for next time as well. The more pre purchase inspections you do, the more you will start to understand what the trained eye looks for. Eventually, you can shop confidently knowing exactly what you look for when buying a car. This by itself makes pre purchase inspections worth it! 😁
6. Know the true value of the vehicle
This works in favour of both the buyer and the seller. For buyers, having the true value of the vehicle can help you know how much you should be spending and if you're being ripped off. It also means you can haggle them down to a much more affordable price.

For the seller, you know exactly how much your car is worth so any dealers or buyers that try to squeeze you down can be ignored. You can use this price as a benchmark and work from there. It gives you extra confidence in knowing if you are selling for a good or bad price.
When Should You Organise A Car Pre Purchase Inspection?
Pre purchase inspections should be organised when you are ready to buy the car. We suggest doing research over a few weeks and narrowing down a select few cars that you are interested in.

By filtering out the ones you like the most you are left with only a few to get inspected. Once you have your cars ready, you can organise a pre purchase inspection to buy in confidence and really see which one is the best.
Do You Need Anything For The Vehicle Pre Purchase Inspection?
Nope. It's simple and we try our best to make it as stress-free as possible 😆. 

We understand people are time poor, so if you give us the contact details of the dealer we will contact them and organise a time to conduct the pre-purchase inspection on your behalf.

You are more than welcome to come with us, and learn what we are looking for and get advice from our inspectors. We can both organise a time that suits everyone and then conduct the inspection.

During the inspection you won't need anything. Just relax and let our qualified inspectors do what they do best. You will then have a chance to pick their brains and go through your comprehensive report.
Do I Need Both A Mobile Roadworthy And A Pre Purchase Inspection?
Yes, these are two different things.

A mobile roadworthy is needed when you are buying or selling a car to provide its road safe and legal. This is compulsory and required when buying/selling a car.

Pre purchase inspections are for your own peace of mind knowing you aren't going to be burning money on a crap vehicle. You are not required to have a pre purchase however it's recommended to do so.
Fortunately, you can get both done at the same time! 😁
After reading this, I hope some of you now understand what a pre purchase car inspection is, and when you might need one. 
Pre purchase inspections are definitely worth it if you are spending a lot of money, have little experience or are trying to sell your car.
Let us know your thoughts in the comments below!